What's for lunch today? Answering that question is not only important in how you'll maintain your energy for the afternoon but if you have PCOS, your lunch can keep your hormones under control too. You may have found a PCOS-friendly recipe or two for lunch and stuck to it like glue, but you want to branch out. What kind of meals can you enjoy for lunch?
Here are 12 PCOS lunch ideas for hormone balance and energy:
Salmon Caesar salad with mushrooms, tomato, and avocado
Pomegranate, chickpea, and broccoli salad
Avocado and brown rice salmon sushi with miso soup
Turkey burger with a side salad
BLT sandwich with avocado and tempeh bacon
Lettuce wrap with grilled chicken and mixed greens
Shrimp fried rice with brown rice and veggies
Baked salmon with a baked potato
Veggie burger with homemade sweet potato fries
Garlic ginger chicken with quinoa
Curried chicken salad
Cilantro lime shrimp skewers with cauliflower rice
If your mouth is watering, then you're definitely going to want to keep reading. Ahead, we'll share recipes for all 12 of these delectable, tasty, filling lunches for hormonal balance and more energy. Your PCOS diet just got a whole lot more interesting!
Salmon Caesar Salad with Mushrooms, Tomato, and Avocado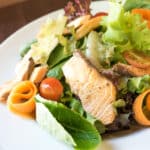 Make a healthy power lunch today by adding salmon to a traditional Caesar salad and loading it with veggies like mushroom, tomato, and avocado. The key to keeping this meal PCOS-friendly is making your own Caesar dressing, as the store-bought alternatives are laden with unhealthy oils and preservatives and are generally higher in calories. Salmon is also a good source of Omega 3 which has been shown to lower testosterone in women with PCOS (1).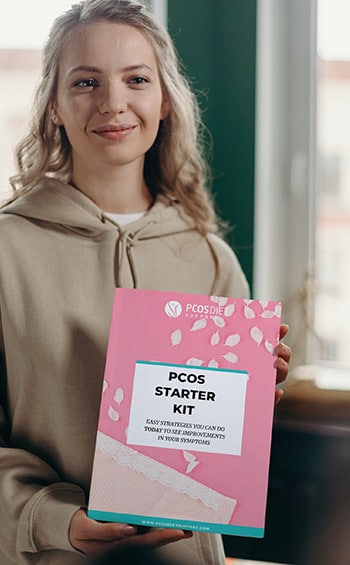 Get your Free PCOS Starter Kit
ENJOYED & DOWNLOADED BY OVER 86,500 OTHERS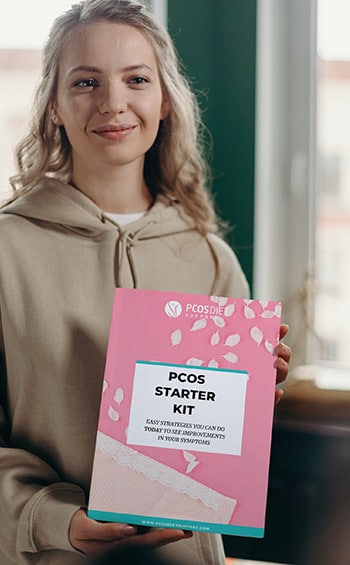 For the salmon:
1 Salmon fillet
3 Sprigs of Thyme
2 Lemons (one in wedges and one sliced)
Black pepper
1/2 teaspoon sea salt
For the salad:
1 Pint grape or cherry tomatoes (all tomatoes cut in half)
3 Romaine hearts (cut)
1 Avocado (sliced)
1/2 Cup Mushrooms
1/2 Teaspoon sea salt
For the dressing:
120ml Avocado oil
1 Teaspoon black pepper
1 Teaspoon salt
1 Tablespoon oregano
2 Cloves garlic
2 Tablespoons lemon juice
1 Tablespoon anchovy paste
2 Teaspoons Dijon mustard
1 Egg yolk
Instructions:
Step 1: Begin by making your Caesar salad dressing. Take your ingredients and put them in a food processor, save for the avocado oil. After 30 seconds of pulsing, the ingredients should be liquid-like. Next, add in the avocado oil little by little with the food processor still running. Set aside for now.
Step 2: Work on your salmon next. Turn your grill or stove to high. Pull out a sheet of aluminum that's twice the length of the fish. On a clean surface, lay the salmon down, sprinkling garlic, pepper, and salt as desired. Add thyme and lemon as well.
Cover the salmon with the rest of the aluminum and cook it on medium-high heat for 10 minutes.
Step 3: Put together your salad, starting with the lettuce, then the avocados, mushrooms, and tomatoes.
Step 4: When the salmon has cooled down, slice it into chunks and add it to your salad.
Step 5: Cover the salad in as much Caesar dressing as desired.
Pomegranate, Chickpea, and Broccoli Salad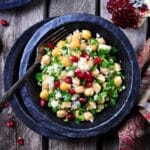 Next is another salad that will fill you up and ready you for that afternoon meeting with the boss or the big client conference call. This salad is really easy to make too, so you can do a bit of prep the night before and bring all the ingredients with you to work in your lunch bag, then assemble them in the kitchen.
For the salad:
1/2 Cup pomegranate seeds
1 15 Oz can chickpeas (rinsed and darined)
1 Cups / 8 oz Broccoli florets
1/2 Teaspoon ground pepper
3/4 Teaspoon salt
1 Tablespoons lemon juice
2 Tablespoons extra virgin olive oil or avocado oil
2 Tablespoons tahini
1/3 Cup coconut cream
1/2 Teaspoon cumin
1/4 Cup red onion, sliced
Instructions:
Step 1: Grab a bowl big enough for the red onion and fill the bowl with cold water. Let the onion sit in the bowl for the next 10 minutes, then drain it.
Step 2: In a small skillet, add the cumin. Turn your stovetop to medium heat and stir continuously over the next minute.
Step 3: In a bigger bowl, mix in the pepper, salt (only ½ a teaspoon), lemon juice, oil, tahini, and yogurt, whisking them together.
Step 4: Next, put in the onion, pomegranate seeds, chickpeas, and broccoli, tossing until everything is incorporated.
Step 5: Wait 10 minutes for the ingredients to stand. Then, add the rest of the salt, toss the ingredients, and serve.
Avocado and Brown Rice Salmon Sushi with Miso Soup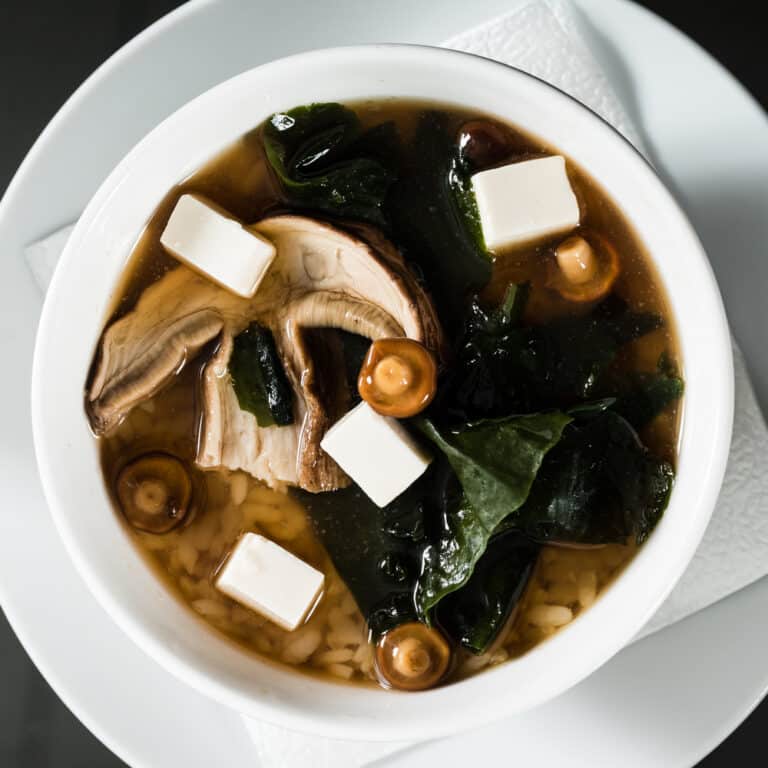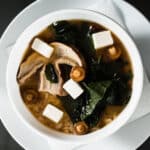 Who says you always have to go to a fancy restaurant to have sushi? You could always make it at home, and with ingredients friendly to your PCOS diet too. Enjoy your sushi with a cup of miso soup through a recipe courtesy of Well + Good that's supposed to balance your hormones and promote good gut health.
For the sushi:
1 Pack Nori
1 Whole avocado
1/2lb raw, sushi-grade salmon
4 Tablespoons rice wine vinegar
3 Cups browm rice
For the miso soup:
2 Tablespoons chopped scallions
1/2 cup broccoli sprouts
2 Cups packed kale
12oz Black codfish fillet, sliced into 1 inch pieces
3 Tablespoons sweet white miso paste
1 Kelp sheet
1 and a half Cups Shitake mushrooms
1 Quart vegetable broth
1 Cup hot water
2 Tablespoons dried arame
2 Tablespoons dried wakame
Instructions:
Step 1: If your brown sushi rice requires it, then cook it first.
Step 2: Take the raw salmon and slice it. When you're done, cut the avocados, but watch your timing so they don't get brown.
Step 3: Stir rice wine vinegar into the brown rice when it's finished cooking (provided it needs to be cooked).
Step 4: Open your nori and split the sheet down the middle.
Step 5: Lay out a bamboo rolling mat and put a sheet of plastic wrap over it.
Step 6: Take your half sheet of nori and put it on the rolling mat. Cover the nori sheet with rice. Then, you might flip the sheet over so the rice is in the inside. Leave the nori sheet as it is if you like the nori on the outside.
Step 7: On top of the rice, add the avocado strips and salmon pieces in a long row.
Step 8: Roll up the bamboo mat snugly, applying pressure so the roll is secure. Slice the roll into 6 pieces.
Step 9: Next, make the miso soup. Start by soaking the arame and wakame in a medium-sized bowl full of hot water. Arame is sea kelp and wakame is a type of seaweed like nori.
Step 10: Whip up a vegetable broth with ginger root, fennel, sweet potato, celery, leek, parsnips, yellow onions, and carrots. Pour in 3 cups on a medium-sized saucepan and let it simmer over 10 minutes. Make sure the broth is covered as it cooks.
Step 11: Mix in the cod, then turn the heat off. Let the broth sit for 3 minutes still covered. Next, take the vegetable greens and stir them into the mix. Put the cover back on and wait up to 5 minutes for the greens to wither.
Step 12: Add the miso paste next, then stir. Ladle the soup and serve.
Turkey Burger with Side Salad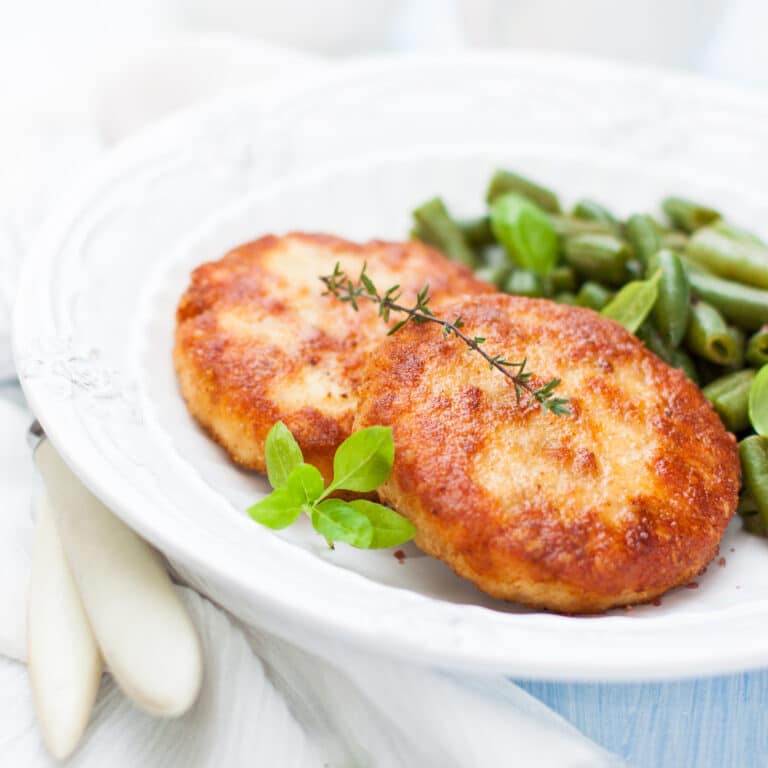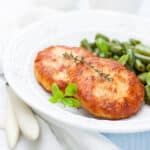 A turkey burger will satiate you for the rest of the afternoon. This is a great lunch for the spring and summer. Make sure you use gluten-free buns or even go bunless to avoid aggravating PCOS symptoms!
For the burger:
1 Egg
2 Tablespoons brown rice flour
1/2 Teaspoon ground black pepper
3 Tablespoons minced onion
1 Tablespoon Italian seasoning
2 Minced garlic cloves
1 Tablespoon Mild hot sauce
1 and 1/2 Tablespoons Dijon mustard
2 Tablespoons Olive oil
1 Pound ground turkey
Instructions
Step 1: Take your ingredients and stir them all in a bowl. Stop when they're firm and meaty.
Step 2: Shape your turkey patties, in which you should have 6 altogether.
Step 3: Cook the patties at 165 degrees Fahrenheit, using an internal thermometer to confirm the temperature.
Step 4: Flip the patties so they're cooked on both sides.
Step 5: Add your favorite PCOS-friendly burger toppings and condiments. Put the patty on a gluten-free bun and serve.
Step 6: Prep a side salad using one of the recipes above.
BLT Gluten-Free Sandwich with Avocado and Tempeh Bacon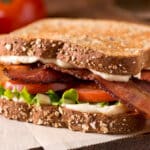 Surprise! You don't have to give up your favorite sandwich forever even if you have PCOS. By making some healthful switches like tempeh bacon instead of the real deal and adding avocado, you've got one delectable BLT. As tempeh is high in fiber, it is also considered a probiotic and is great for gut health. This can help with inflammation, something women with PCOS are prone to. Also, I don't often recommend gluten-free bread but the healthy fats and protein in this sandwich will help to lower the glycemic load of the bread.
For the tempeh bacon:
Pinch ground black pepper
Pinch salt
Extra virgin olive oil (to taste)
8 Ounces tempeh
For the tempeh bacon marinade:
1/2 Teaspoon ground cumin
2 Teaspoons smoke powder (skip it if you want)
1/2 Teaspoon paprika
1 Tablespoon agave syrup
1 Tablespoon extra virgin olive oil
1 Tablespoon tamari sauce or gluten free soy sauce
For the BLT:
1 Sliced avocado
1/2 Cup baby spinach
1 Sliced tomato
2 Tablespoons organic mayonnaise
2 Slices gluten free bread
Instructions:
Step 1: Begin with the tempeh bacon. Prepare the marinade by taking those ingredients and putting them in a bowl, stirring until they're incorporated. Cut thin pieces of tempeh and soak them in the marinade for 2 minutes.
Step 2: Put a skillet on the stovetop and add extra virgin olive oil to coat the pan. Let the tempeh cook for 2 minutes on each side using high heat. Garnish with salt and pepper.
Step 3: Now put together your sandwich. On a slice of gluten-free bread, apply some mayo and spread it, then do the same for the second slice. To your preference, add avocado, greens, tomato, and tempeh bacon.
Lettuce Wrap with Grilled Chicken and Mixed Greens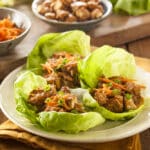 A handheld lunch you can eat on the go is convenient if you're a busy lady with a jam-packed schedule. This lettuce wrap with grilled chicken has the protein you need to keep you focused and productive all afternoon. A mixed greens side salad is both healthy and tasty.
For the grilled chicken:
1 and 1/2 Teaspoon lemon zest
1/2 Teaspoon ground black pepper
1 and 1/4 Teaspoon salt
1/2 Teaspoon dried oregano
1 Teaspoon dried thyme
4 Minced garlic cloves
6 Tablespoons extra virgin olive oil
1 and 3/4 Skinless, bonless chicken breasts
For the mixed greens salad:
1 Red bell pepper, sliced into half-inch pieces
1/4 Cup sweetened dried cranberries
1 Pound mixed salad greens
4 Ounces pecans
Instructions:
Step 1: Prep the chicken, letting it sit in the marinade for a few hours so it gets a nice flavor. Then, cook it. If you're using a grill, the chicken needs 3 minutes per side.
Step 2: Place the chicken in butter lettuce leaves. Add the chicken and other desired ingredients such as peppers, Tzatziki, or hummus.
Step 3: Put your salad in a bowl, add dressing, and serve.
Shrimp Fried Rice with Brown Rice and Veggies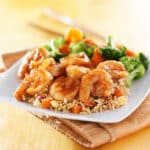 If you've had to give up salty Chinese takeout food since your PCOS diagnosis, you can still enjoy that takeout lunch feel at the office any day with a homemade version of shrimp fried rice. Use brown rice instead of white and serve with a side of your favorite veggies for a well-rounded meal. Unlike the takeout version, this recipe won't put you in a food coma!
For the shrimp fried rice:
1 Teaspoon dark toasted sesame oil
1 Tablespoon tamari sauce
3/4 Cup frozen carrots and peas
2 Green onion stalks, minced
3 Eggs, beaten
3 Tablespoons coconut oil
1/2 Teaspoon cornstarch
Pinch ground black pepper
1/2 Teaspoon kosher salt
8 Ounces raw shrimp, deveined and shelled
Instructions:
Step 1: Put the shrimp in a medium-sized bowl and add cornstarch, pepper, and salt, tossing until the shrimp are coated.
Step 2: Turn your stovetop on to high and put a sauté pan on. Wait for the pan to heat up and then add the cooking oil, turning until the pan is covered.
Step 3: Put the shrimp on the pan so each is laid out side by side with no overlapping shrimp. Cook them for 30 seconds, then flip, cooking for 30 seconds more. Leave them somewhat uncooked and take the shrimp out.
Step 4: In another pan, crack 3 eggs. Turn the stovetop on low or medium heat this time. Scramble the eggs but leave them a little runny.
Step 5: Clean the pan you used for the eggs and put it back on the stovetop. Turn the heat on high and then add 2 tablespoons of olive oil, coating the whole surface of the pan. Sauté the green onions for just 15 seconds.
Step 6: Next, add the brown rice, stirring it with the green onions and frying for 2 minutes. Keep the rice moving with a spatula so it doesn't burn, then give it another minute to cook.
Step 7: Mix in the eggs, peas, carrots, sesame oil, and soy sauce, stirring. Then put the shrimp in and continue to stir until everything is cooked.
Baked Salmon with a Baked Potato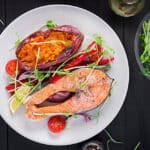 A simple baked salmon and baked potato recipe is about as easy as it gets, but simple isn't always a bad thing. You can bake your salmon plain or jazz it up with some garlic, rosemary, salt, and pepper.
For the salmon:
1 Teaspoon black pepper
1 Teaspoon salt
4 Stems rosemary
3 Tablespoons olive oil
9 Stalks aparagus
1 Lemon
2 Garlic cloves
2 Salmon fillets (or 250g)
For the baked potato:
Thyme, oregano, cumin, or dry tarragon (to taste)
Pepper (to taste)
Sea salt (to taste)
2 Tablespoons coconut oil
4 Sweet potatoes
Instructions:
Step 1: To make the salmon, set your oven to 375 degrees. While your oven preheats, peel the shrimp if they're not already shelled. Cut the lemon into halves and remove the asparagus ends.
Step 2: Put the salmon in the oven on a baking tray with the asparagus laid out between filets. If you're only making one salmon filet, you don't need 9 asparagus, maybe 2 or 3.
Step 3: Before the salmon begins cooking, coat it in olive oil and salt and pepper. Then, cook it for 15 minutes.
Step 4: When the salmon is out of the oven, turn the oven to 425 degrees for the potatoes.
Step 5: Mix the sweet potato slices with your preferred herbs, pepper, sea salt, and liquid coconut oil. Then put the slices on parchment paper.
Step 6: Bake the potatoes for up to 45 minutes, turning them at least twice.
Vegan "Tuna" Salad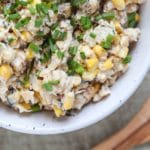 This vegan "tuna" salad is full of great fibre and plant-based protein. It will keep you feeling satisfied without the post-lunch slump.
For the salad: 
2 ½ Cups (400g) chickpeas, drained
2 Nori sheets
2 Tablespoons vegan mayo (or tahini)
2 Tablespoons lemon juice
1 Cup (175g) sweetcorn, drained
1 small onion, finely diced
Ingredients:
Step 1: Prep your black beans, preheating your oven to 325 degrees. Put the beans on a pan, spread them out, and cook them for 15 minutes. They should look a bit dry when they're finished.
Step 2: While the beans cook, add garlic, onion, chopped pepper, and olive oil to a pan, sauteing for 6 minutes over medium heat. Put a paper towel over the ingredients to blot up their moisture, then transfer them to a food processor.
Step 3: In the food processor, add the sauteed ingredients as well as the other ingredients for the patties. Pulse the ingredients in the processor and then mix in the black beans. Pulse again, but make sure the beans are chunky. Then, take a 1/3 a cup of the mixture to make black bean patties.
Step 4: To bake the patties, put them on parchment paper and cook them for 20 minutes at 375 degrees. After 10 minutes, flip the patties over to the other side. You can also grill them for 8 minutes at about 400 degrees, but grease some aluminum foil and put the patties on the foil.
Step 5: Place the black bean burger on a gluten-free bun and add the toppings and condiments you like.
Step 6: Move on to the fries now, preheating the oven to 400 degrees. Slice each sweet potato into slim sticks that are 3 inches in length and ½ an inch wide. Coat the fries in olive oil too.
Step 7: Grab a small bowl and add pepper, salt, and other spices, then cover the sweet potatoes with the spices.
Step 8: Transfer the potatoes to a baking sheet and let them cook for 15 minutes. Flip them and let them spend 10 more minutes in the oven.
Sweet Potato, Quinoa and Bean Burger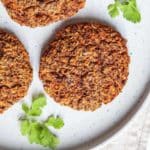 These burgers are great to prep on a Sunday and enjoy throughout the week with a salad. They keep well and are an easy lunch to take to work.
For burgers:
1 Sweet potato
1/4 Cup (60g) quinoa, raw
14 Ounce (400g) can kidney beans, drained
1 Teaspoon rosemary
1/2 Teaspoon chili flakes
1 and a half Tablespoons olive oil
Instructions:
Step 1: Preheat oven to 410°F (210°C) and cut the sweet potato into ¾ inch (2cm) pieces. Place it in an ovenproof dish, drizzle with ½ tbsp. olive oil and season with salt & pepper, rosemary, and chili flakes. Bake for 25-30 minutes.
Step 2: Once potatoes are cooked, allow them to cool slightly. Then peel off the skin, place in a bowl, and mash the flesh with a fork. Add in the drained beans and also mash with a fork.
Step 3: Cook quinoa according to instructions on the packaging. Once cooked, transfer to the mashed beans and potato, season with salt & pepper, and mix well.
Step 4: Using slightly wet hands, form 4 burgers and grease each one with the remaining olive oil. Place on a baking tray lined with tin foil and bake for 20-25 minutes in 410°F
(210°C).
Salmon Spring Rolls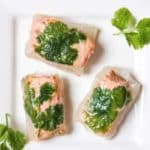 Just because you're following a PCOS diet, doesn't mean that spring rolls are a thing of the past. I love spring rolls and this is such a quick and easy way of making them. Served with a side salad, these are perfect for lunch!
For the spring rolls:
4 Sheets rice paper
Fresh coriander
7 Ounces (200g) salmon, cut into 4 pieces
1 Tablespoon coconut oil
Tamari (GF), to serve
Instructions:
Step 1: Boil a little bit of the water in a pan. Remove from heat, and dip in the rice paper for 30 seconds, one after the other. Remove the sheets from the water and place on a damp cloth.
Step 2: Place a piece of coriander on top of each sheet, cover with a piece of salmon, sprinkle with freshly ground black pepper, and wrap the rice paper around the fish.
Step 3: Heat the oil in the pan, and fry the rolls for 2 minutes, then turn over and cook for another 2-2.5 minutes until they are nicely browned.
Step 4: Put on a paper towel, to cool slightly and serve with soy sauce. Perfect with a side salad.
Cilantro Lime Shrimp Skewers with Cauliflower Rice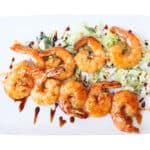 The fiesta flavors of this cilantro lime shrimp recipe are a great way to brighten up any afternoon without throwing your hormones out of balance. Putting the shrimp on skewers makes them portable and handy. Cauliflower rice looks just like the real deal but is even healthier for you.
For the cilantro lime shrimp skewers:
1 Pound shrimp, deveined and shelled
1/4 Teaspoon Coarse ground black pepper
1/2 Teaspoon kosher salt
3 Cloves garlic, minced
3 Tablespoons olive oil
1/4 Lime juice
2 Teaspoons grated lime zest
1/4 Cup cilantro, chopped
For the cauliflower rice:
1 Cauliflower head (1)
1 Tablespoon olive oil
Ingredients:
Step 1: Prep the cilantro lime shrimp first. Combine the pepper, salt, minced garlic, olive oil, lime juice, lime zest, and cilantro in a bowl. Transfer the marinade into a plastic bag.
Step 2: Put the shrimp in the marinade bag and let them sit for at least 15 minutes.
Step 3: Turn your stovetop to medium and cook the shrimp until they turn bright pink, about 3 minutes per side.
Step 4: Put the shrimp on skewers, about 4 shrimp per skewer.
Step 5: Clean your cauliflower, washing it thoroughly and plucking the greens.
Step 6: Grate the cauliflower until it becomes rice-like in texture, shape, and size. Alternatively, you can use a food processor for this.
Step 7: Put a skillet over medium heat, coating the skillet in olive oil. Toss your rice and put a lid on the skillet. Let the rice cook for 8 minutes and season it if you'd prefer.
Summing it Up
Whether you're in the mood for chicken, salad, shrimp, or a nice, juicy burger, your PCOS diet allows for all these foods with some modifications. Making any of the above recipes for lunch (or even dinner) is a great, nourishing way to make your day better! Also, if you want more PCOS friendly recipes, feel free to check out the most advanced meal planning platform for women with PCOS, PCOS Foodies.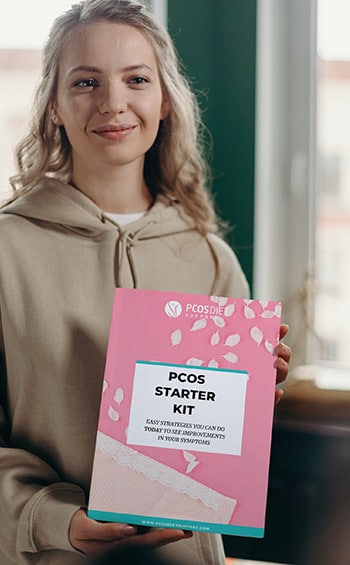 Get your Free PCOS Starter Kit
ENJOYED & DOWNLOADED BY OVER 86,500 OTHERS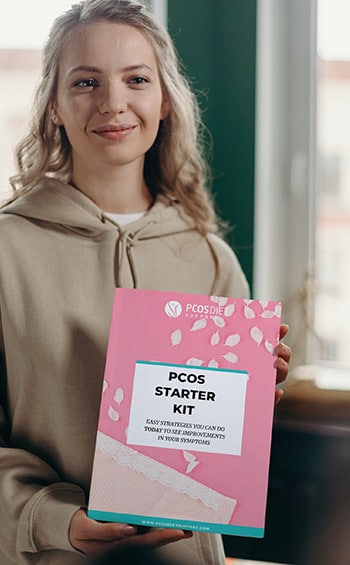 1 Nadjarzadeh, C; Firouzabadi, R, D; Vaziri, N, et al. The effect of omega-3 supplementation on androgen profile and menstrual status in women with polycystic ovary syndrome: A randomized clinical trial. IRANIAN JOURNAL OF REPRODUCTIVE MEDICINE, 2013