In previous articles we've spoken a lot about hirsutism or increased hair growth as it relates to PCOS. Something we haven't covered, though, is the connection between PCOS and hair loss (alopecia).

This is something that I am asked about on a fairly regular basis and it is incredibly distressing for those women struggling with hair loss. Generally speaking, we can hide or manage our excess hair but hair loss becomes difficult to hide without resorting to a wig.
So, let's have a look at what we need to know about hair loss and how we can best manage it.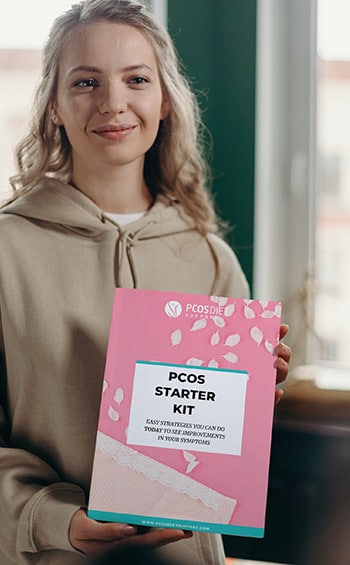 Get your Free PCOS Starter Kit
ENJOYED & DOWNLOADED BY OVER 86,500 OTHERS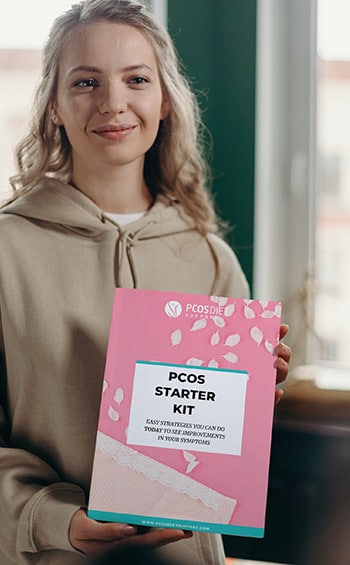 The Hair Cycle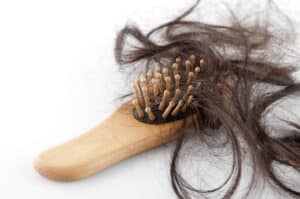 The first thing we need to understand is the hair cycle. We have about 100 000 hair follicles on our head and we lose about 100 hairs per day (this is normal) Each hair grows for 2-6 years and then enters into a rest phase before eventually falling out.  A new hair should start to grow soon after the old one has fallen out. At any given time, 85% of our hair is in a growth phase whilst 15% is in the resting phase.
The problem with hair loss is that the hair follicle enters the resting phase but doesn't re-enter a growth phase, leading to hair thinning and baldness. (1)
PCOS and Hair Loss
Research has shown that 67% of all women who suffer from alopecia or hair loss also have Polycystic Ovarian Syndrome (2). That shows a significant link between PCOS and hair loss. There can also be other causes that we'll get into later but for now, let's stick with PCOS.
How High Testosterone Levels Cause Hair Loss
We know that women with PCOS have higher than normal androgen (testosterone) levels (2). A hormone called Dihydrotestosterone (DHT) is converted from testosterone and it binds to the hair follicles, making them go into their resting phase sooner than they should, This means that with each growth phase of the hair, the hair becomes thinner and thinner.
The good news, though, is that the follicle itself is still alive so could be reactivated to produce more hair. (3)
Treatment Options to Manage Testosterone
It seems to me that the most sensible thing to do is to address the high testosterone levels that are causing the hair loss in the first place. There are a number of ways to do this naturally so let's have a look at some of those options:
Diet
It may seem strange that diet is top of my list but you know how firmly I believe in the importance of diet in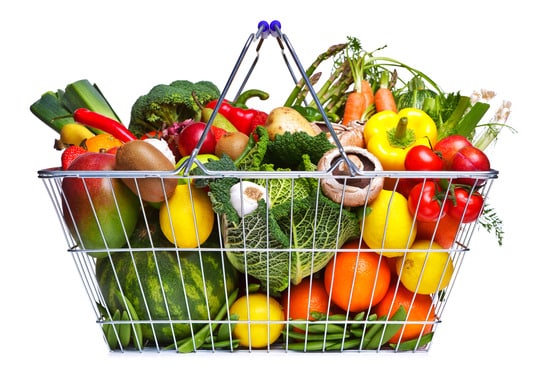 managing our symptoms. Basically, women with PCOS tend to release too much insulin for the amount of carbs that we eat. This causes higher than normal levels of insulin, which stimulates our ovaries to produce too much testosterone.
So, if we can manage our insulin levels, we'll get a better handle on our testosterone. Get testosterone under control and hopefully we can prevent any further hair loss.
Supplements
I've written loads of articles on how certain supplements help to manage our PCOS and more importantly, improve our hormone levels and androgen levels.  You can find out more info on these supplements here.
Exercise
Exercise has been shown to improve all of the metabolic markers of PCOS, including androgen levels. You can read more about it here.
In the next blog, we'll look at some other treatment options for hair loss, including surgery and implants, an unusual natural remedy and other medical conditions that could be the culprit, apart from PCOS.
I'd love to hear from you about your experiences with PCOS and hair loss, particularly if you have previously suffered from hair loss but have seen an improvement. I'd love to hear about the things that you have tried that worked and those that didn't work. Leave me a comment below!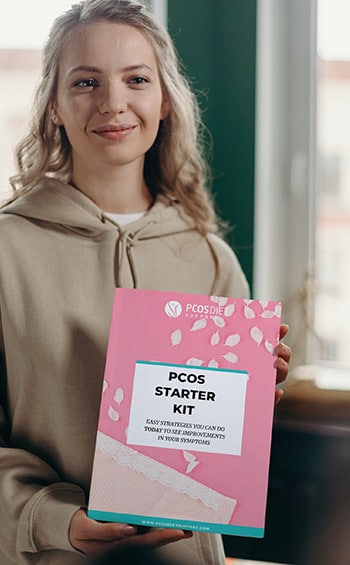 Get your Free PCOS Starter Kit
ENJOYED & DOWNLOADED BY OVER 86,500 OTHERS