I recently came across a piece of research that made me SO excited and I just have to share it with you as it could completely transform how you manage your PCOS. Now this research is a gem, a treasure to be looked after and worn close to your heart. It confirms that you don't have to be a victim of PCOS but that you do have some power and control over what happens with your body. Are you ready for this?
The Gem
Diet and lifestyle changes are more effective than Clomid and Metformin in managing PCOS (1). I have always firmly believed this but to see it in black and white, evidenced in medical and scientific journals, validates my own approach to managing my PCOS. Researchers compared the effectiveness of Clomid, Metformin, Clomid combined with Metformin, and Lifestyle changes. They measured pregnancy rates and found that Clomid had a 12.5% pregnancy rate with Metformin being 14.4% and the Clomid and Metformin rate was 14.8%. Here is the amazing thing: Diet and lifestyle changes resulted in a 20% pregnancy rate! This is HUGE and so exciting.
Well, you might say that you aren't trying to conceive. Why is this relevant for you? Pregnancy rates confirm that a woman has ovulated and if ovulation has occurred, hormones are probably balanced, testosterone levels have dropped and insulin is probably more under control. If that were to carry on over the long term, you can bet that weight loss, decrease in excess hair and improvements in acne are just around the corner. Sounds good, doesn't it?!
Right, we have established that diet changes are key to managing PCOS. But just how should we be eating and what should our diet look like? Is it enough to eat a healthy diet or even follow a weight loss program? Will that help us manage our PCOS symptoms? Let's try and answer these questions by looking at a sample Weight Watchers meal plan and a meal plan tailored to treat PCOS.
The PCOS Diet Vs. a Normal Diet
Let's have a look at what we might perceive to be a healthy diet as well as what some of the popular weight loss programs recommend. Before we get on to this, I want to make it clear that I am not against Weight Watchers or any other diet plan. I have tried Weight Watchers myself and enjoyed the program while I was on it. I am simply using Weight Watchers to illustrate a point.
Sample Weight Watchers Meal Plan
Before we get into the details of the meal plans, you'll see that the sample Weight Watchers Meal Plans amounts to 909 calories per day. This is generally very low and not something that I would recommend myself. In the PCOS diet comparison, I have used similar caloric values as Weight Watchers to illustrate the difference in carbohydrate content and GL of both diets.
Here is a sample 1 day meal plan from Weight Watchers:
Breakfast: Crumpets with banana and honey – A toasted crumpet topped with 2 heaped tsps clear honey and a sliced banana.
Lunch: Cheesy Jacket Potato – Small jacket potato filled with 1 tbsp plain cottage cheese, mixed with chopped chives and spring onions. Serve with chopped cucumber and tomato on the side.
Dinner: Penne with Spinach and Sun-dried Tomatoes – Serve this hot or cold with a green side salad.
It looks great and sounds healthy enough, doesn't it. But what if you have PCOS? Let's take it meal by meal and consider what is happening with your hormones with these meals:
Breakfast: Crumpets with banana and honey
Crumpets are similar to a thick pancake made with yeast. Here is the nutritional break down of this meal: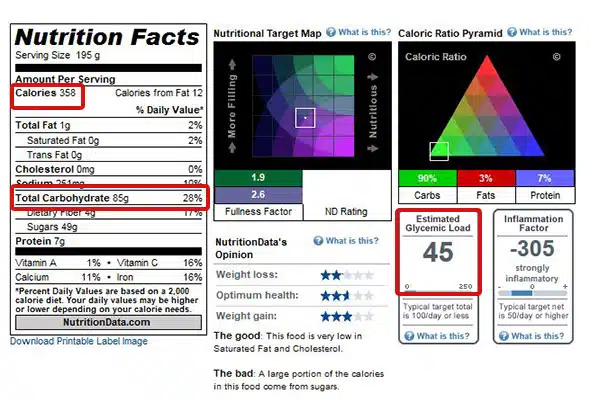 A glycemic load of 45 is HUGE and will cause a significant spike in your insulin levels. This will in turn cause your testosterone levels to rise and your PCOS symptoms will remain out of control. Also, as there is very little protein in this meal, your blood sugars are likely to crash, leading to cravings and needing to snack soon after this meal.
Lunch: Cheesy Jacket Potato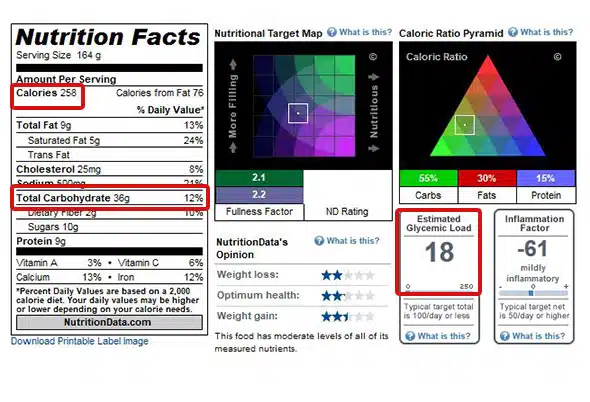 The nutrition data for lunch looks good in terms of glycemic load. My only concern is that a significant percentage of the calories are coming from carbohydrates and the cheese is a concern as cheese tends to cause insulin levels to rise higher than we would expect based on it's carbohydrate content.
Dinner: Penna pasta with spinach and sun dried tomatoes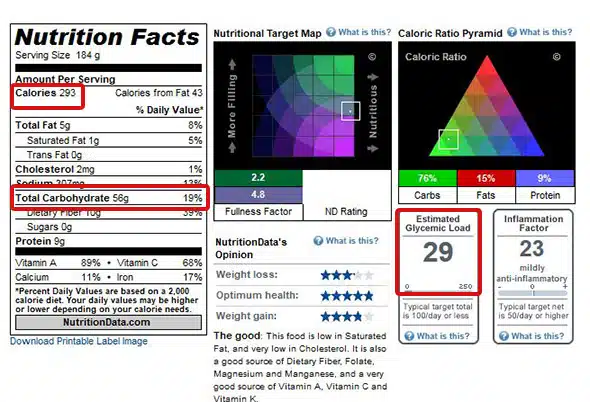 Dinner is another carbohydrate heavy meal with a glycemic value of 29 and a huge percentage of the calories coming from carbs. Your PCOS will not thank you for this meal, even though it seems very healthy and low in calories.
Can you see how these meals are thought to be healthy, and for the average women, would be. But women with PCOS have very different dietary needs to the average population and it is vital that we consider our specific needs when it comes to diets and foods. Although you may lose some weight on a plan like this as the calories are restricted, you may not lose as much as you could lose following a tailored PCOS diet and your symptoms will not be as well managed.
A Meal Plan tailored to suit a PCOS Diet
Now let's have a look at a sample meal plan using PCOS friendly recipes.
Breakfast: Avocado and Raspberry Smoothie.
Lunch: Spiced Lentil, Walnut and Spinach Loaf, served with a green salad.
Dinner: Vegetable Stir fry with Cashews
Breakfast: Avocado and raspberry smoothie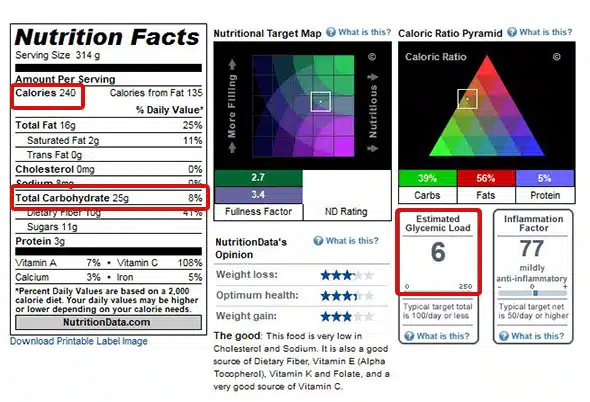 Whilst this smoothie may be high in fats, they are healthy fats, the building blocks of all of your hormones and are essential to your diet. This smoothie also has a low glycemic load and good balance of nutrients to get your day started. You're unlikely to have a huge crash in your blood sugars which will really help to combat your carb cravings.
Lunch: Spiced Lentil, Spinach and Walnut Loaf served with a green salad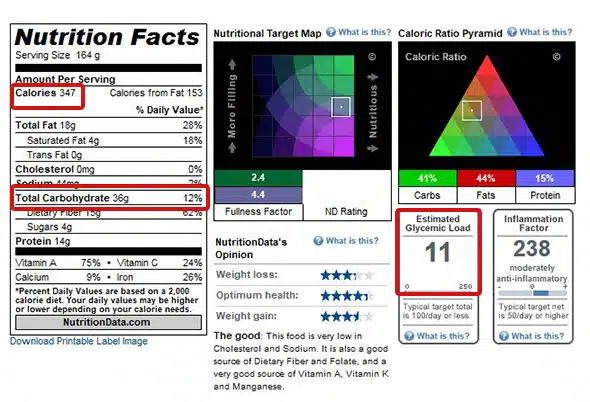 Again, there is a better distribution of nutrients and a low glycemic load. The protein and fibre will help to keep you fuller for longer and will also regulate the metabolism of carbs, leading to a slower, more gentle rise in insulin levels. This will be kinder to your testosterone levels and this meal is therefore helpful for your PCOS symptoms.
Dinner: Vegetable stir fry with cashews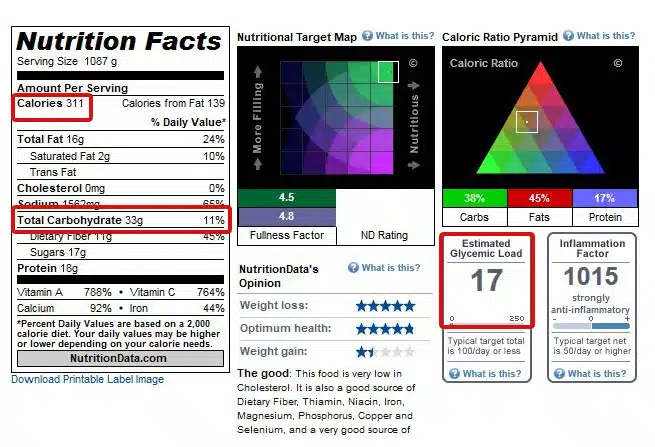 Look at all of those amazing nutrients in this meal and the inflammation factor. Your body will literally be thanking you for this meal! Again, the glycemic load is low and there is a good balance of fats, carbs and proteins.
Totals for the Day
Weight Watchers Meal Plan
Total Calories: 909
Total Carbs: 177g
Glycemic Load: 92
Tailored PCOS Meal Plan
Total Calories: 898
Total Carbs: 94g
Glycemic Load: 34
Summing It Up
There is a difference of 11 calories (that's the equivalent of 1 strawberry) in both of these meal plans. But the glycemic load of the PCOS meal plan is nearly a third of the Weight Watchers one and the carbohydrates are nearly half. I can guarantee you that you will lose more weight, have improved PCOS symptoms and better energy levels by following a meal plan tailored for your PCOS than you will by following a generic weight loss programme.
So, let's sum up some of the key points of a healthy PCOS diet:
You need to manage your insulin levels to manage your testosterone and your PCOS symptoms.
Make sure you have a good balance of carbs, protein and fats.
Avoid highly refined foods and go for lower GI options.
Dairy is a no-no (find out more here).
No added sugar and if possible avoid sweeteners as these have been shown to raise insulin levels (3) even though they have a very low caloric value.
Focus on all of the amazing vegetables, lean meats and whole foods you can eat.
You may think this kind of diet is restrictive at first, but when you start to feel your energy levels rise, your PCOS symptoms improve and the weight finally begin to shift, you will love that your food has literally become your medicine. It does take effort to prepare healthy meals but I would rather spend time cooking amazing meals that will beat my PCOS than grab a quick take away and suffer the effects on my weight, skin and fertility.
Remember that following a tailored PCOS diet and exercising regularly is more effective than medication for managing your PCOS!
If you need any recipe ideas or help with making these changes to your diet, PCOS Foodies gives you all of the information and support that you need to make those changes. Check it out!