Salmon is a great PCOS friendly food. It's a good source of Omega 3 Essential fatty acids. And we know that Omega 3 helps to lower testosterone levels and a mange inflammation. So, I always try to make sure that we have salmon at least once a week. I'm going to share my favourite PCOS friendly salmon recipe with you…
Now, with 2 small children, dinner time can be stressful. I normally have Josh "helping" me (hanging on my legs, shouting for food). So, I like meals that are quick and don't involve too much work. This One Pan Salmon fits the bill. It may take a little while in the oven but there is very little work involved, making it one of my favourite go-to meals.
If you are going to buy salmon, try find wild Alaskan salmon or any other wild salmon as it is much higher in Omega 3's than farmed salmon.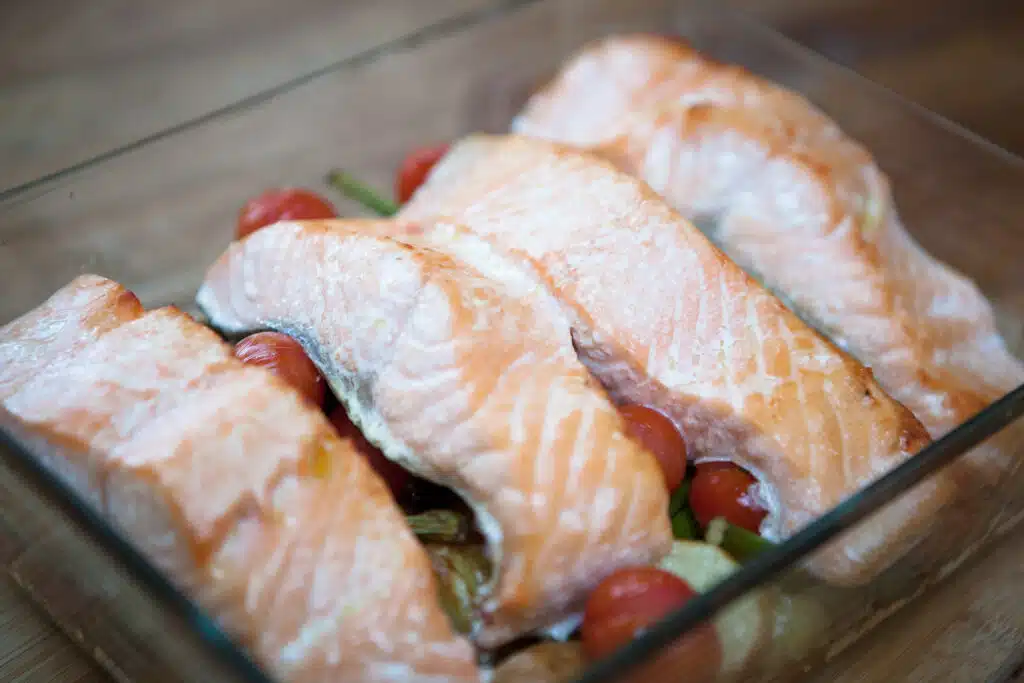 Ingredients:
1 lb / 400g new potatoes, halved if large
2 tbsp olive oil
8 asparagus spears, trimmed and halved
2 handfuls cherry tomatoes
1 tbsp balsamic vinegar
2 salmon fillets, about 140g/5oz each
handful basil leaves
Method:
Heat oven to 220C / 430F. Tip the potatoes and 1 tbsp of olive oil into an ovenproof dish, then roast the potatoes for 20 mins until starting to brown.
Toss the asparagus in with the potatoes, then return to the oven for 15 mins.
Throw in the cherry tomatoes and vinegar and nestle the salmon amongst the vegetables.
Drizzle with the remaining oil and return to the oven for a final 10-15 mins until the salmon is cooked. Scatter over the basil leaves and serve everything scooped straight from the dish.