Being diagnosed with PCOS is not easy and may come as a surprise to you. Many women suspect that something may be wrong when their cycle is irregular or they struggle to fall pregnant.
But actually getting a diagnosis of PCOS suddenly makes it all very real and final.
This first thing you need to know about PCOS is that you are NOT alone. 5-10% of women have PCOS and it is the most common endocrine disorder that affects women.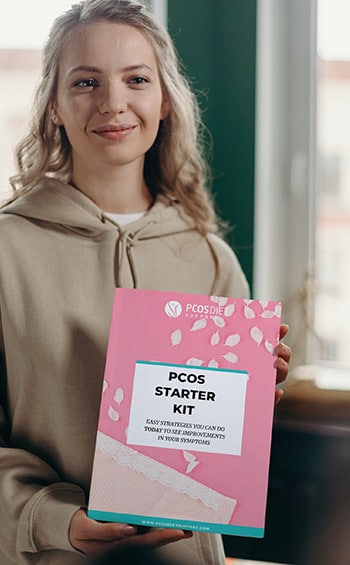 Get your Free PCOS Starter Kit
ENJOYED & DOWNLOADED BY OVER 86,500 OTHERS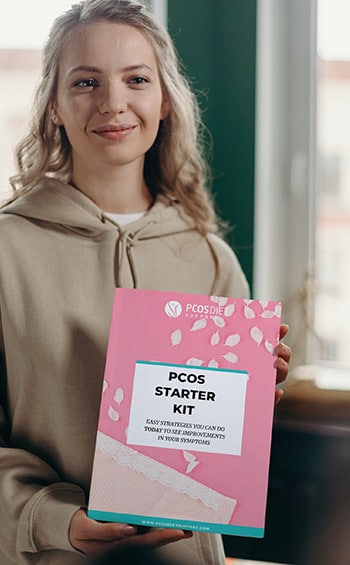 What is PCOS?
The cause of PCOS is unknown but it is thought that there is a large genetic component.
The key features and symptoms of PCOS include anovulation and irregular menstrual cycle leading to ovulation-related infertility, polycystic ovaries and increased levels of male hormones. This increase in male hormone leads to acne, weight issues, hirsutism (hair growth) and insulin resistance.
The female hormone system and menstrual cycle is complicated at the best of times. Here is a really clear video explanation of what PCOS is:
Medical Treatment for PCOS?
Medical treatment of PCOS varies depending on your unique situation. If you are not trying to conceive, many doctors will prescribe birth control pills to manage your cycle. Whilst you're on the pill, your cycle will be regular and many of the symptoms of PCOS will be managed. But, as soon as you stop taking birth control, your symptoms will return.
If you have insulin resistance and difficulty with weight, many doctors prescribe Metformin, a drug that is often prescribed for Type 2 Diabetics, to help increase your body's sensitivity to insulin. Metformin must be taken with a healthy diet and can have some negative side-effects.
If you are trying to conceive and you do not ovulate, your Doctor may prescribe medications to assist with ovulation and there are other fertility options available.
What can YOU do about your PCOS?
Diet and supplements:
Your diet is crucial to managing your PCOS and is one of the few things you have control over when it comes to PCOS. A low GI diet is crucial to managing your insulin levels and thereby your levels of the male hormones in your body. Here are some ideas about what the Best PCOS Diet looks like.
Exercise:
Exercise is the only way your body can move sugar from the blood stream into the muscles without insulin. This helps to lower your insulin levels. Exercise has also been shown to improve your body's sensitivity to insulin. This means that your pancreas doesn't need to produce as much insulin to manage your blood sugar levels. With your insulin levels within more normal levels, you should have less of the male hormones in your body and less fat storage, leading to weight loss and return of a more regular cycle (hopefully).
Weight loss:
Weight and weight loss is often the most frustrating element of PCOS. High insulin levels leads to more fat being stored leading to further weight gain and insulin resistance. It's a difficult cycle to break.
The other problem is that insulin resistance makes it really difficult to lose weight, even though weight loss will help with insulin resistance.
Using a combined approach of diet and weight loss is important and the good news is that losing even 5-10% of your total body weight makes a significant impact on your PCOS symptoms.
Support:
Finding good support is vital to managing your PCOS. Sustaining a good diet and lifestyle is not easy and we need to encourage each other and share in each other's victories, no matter how small they are.
PCOS Diet Support is one place where you can find a community of fellow Cysters, share your experiences and find the motivation you need to keep going. We also all understand what it is like to be diagnosed with PCOS and live with weight issues, acne, hair growth and infertility.
If you'd like to connect with other women with PCOS, why not introduce yourself on our Facebook page or leave a comment below? You might well be surprised by the response and support you get from other Cysters in the PCOS Diet Support Community.
You can also sign up to the PCOS Diet Support newsletter for PCOS research, recipes and a whole lot of motivation.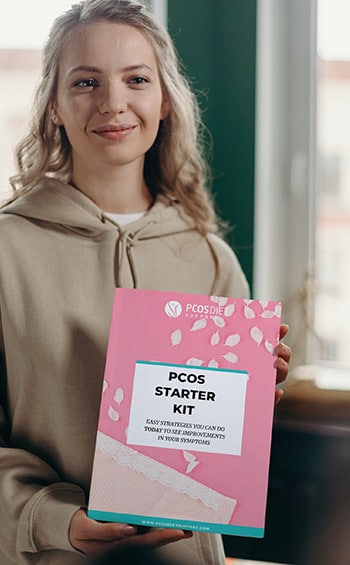 Get your Free PCOS Starter Kit
ENJOYED & DOWNLOADED BY OVER 86,500 OTHERS