Welcome to my very first "What I Ate Wednesday". I stumbled across WIAW (What I Ate Wednesday)last week. The basic idea is that it is a brief and visual food journal of what I ate in one day over the last week. So, I threw the idea out there on my PCOS Diet Support Facebook Page and the response was pretty overwhelming. The general feeling is that women would like some more ideas of foods that they can include in their diet.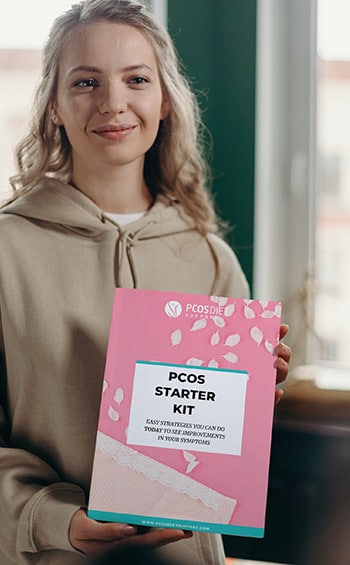 Get your Free PCOS Starter Kit
ENJOYED & DOWNLOADED BY OVER 86,500 OTHERS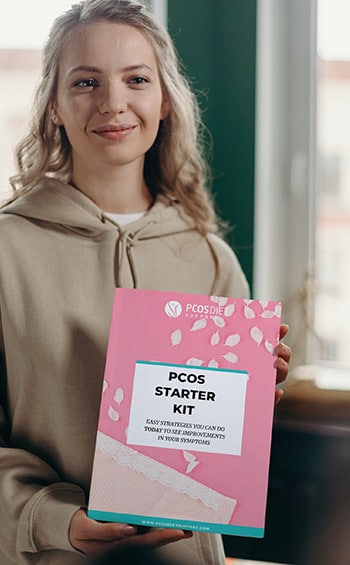 So, this is what I ate yesterday (it was a "work" day when both children were at nursery or our childminder).
Breakfast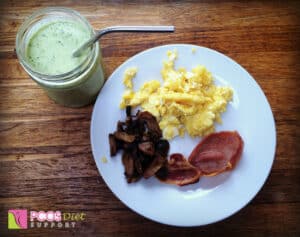 Breakfast tends to be based around an egg based dish. So, yesterday was 2 scrambled eggs, some garlic mushrooms and 1 raster of bacon. I must just let you know that I didn't get so much as a sniff of that bacon. Both children devoured it before I could get to it. I wasn't to phased, though, as I also had a green smoothie (something I don' often have with my breakfast). The smoothie had baby spinach, some frozen berries, a teaspoon of almond butter, half an avocado and some maple syrup – yum!
Snack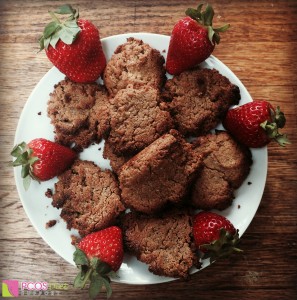 My daughter has been asking me to make cookies for a while so we made these delicious flourless lemon cookies. I had to test one with some tea at around 11:30.
Lunch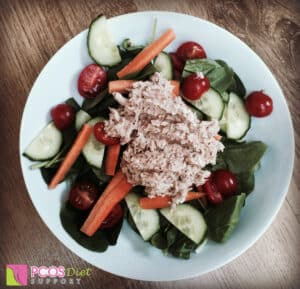 Lunch is often whatever is quickest and easiest. Yesterday I had a tuna salad. Nothing too fancy, just whatever I had in the fridge. I have to say that I was really hungry and ready for supper by the time 6 o'clock rolled around. The salad wasn't quite filling enough.
Supper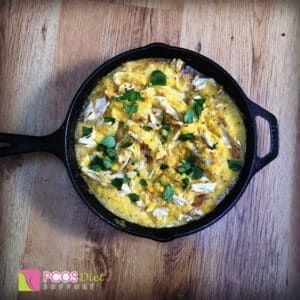 Supper is normally quite early, around 6:00pm so that we can eat with the children. Last night's supper was "Cheesy Stove-Top Chicken" served with zucchini noodles. So delicious, so filling and so easy!
So, that covers it for my first What I Ate Wednesday. I'll be doing these fortnightly so keep a look out for the next one! Let me know if the comments if you have any thoughts or suggestions!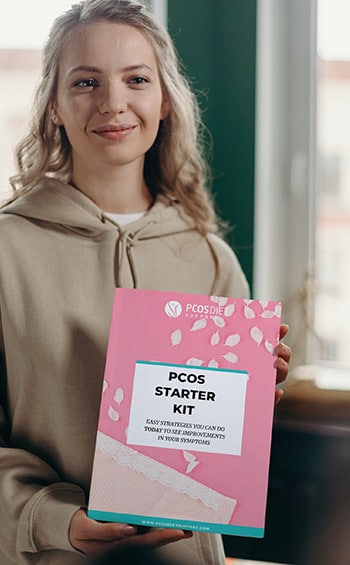 Get your Free PCOS Starter Kit
ENJOYED & DOWNLOADED BY OVER 86,500 OTHERS