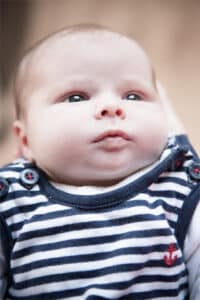 Our little family of 3 has become a family of 4 as our son, Joshua, made his appearance 13 days late on 16th December. Unfortunately it wasn't the natural, "easy" labour that I had hoped for. Josh was back to back and they couldn't get a good trace of his heart beat, resulting in an emergency c-section. I lost a lot of blood (1.7l), which left me feeling awful for at least 2 weeks, and even now I find a trip to the grocery store to be a little too much.
Little Josh is a sweetie and I am smitten! He's a great sleeper and feeds well. He is slowly getting into routine and I can't imagine life without him. But, life with a 3 year old and newborn is busy, I have to say!
The reason I'm telling you all about the ins and outs of my probably mundane and sleep-deprived life at the moment is that things are likely to stay a little quiet on the blog for the next couple of weeks. I will do new articles and reply to comments where I can. Please keep commenting and asking your questions and hopefully I'll get back to them in the not too distant future.